TCAPS strategic plan is in place | Local News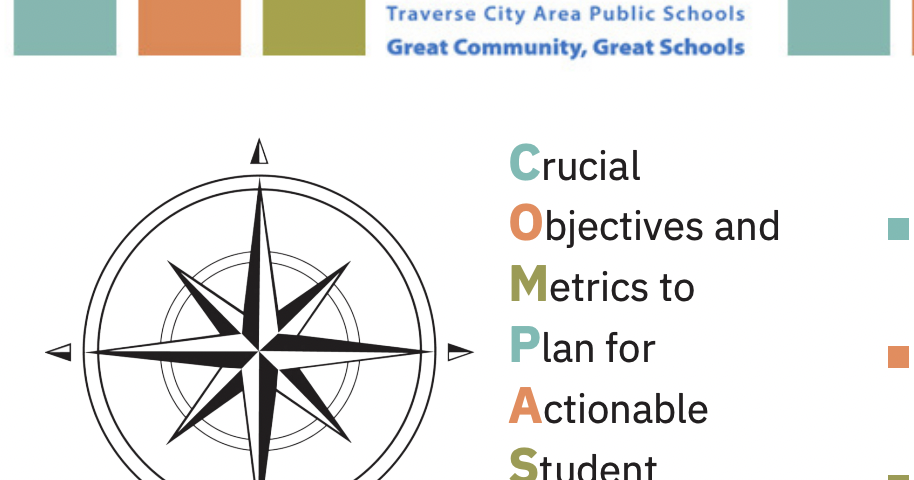 TRAVERSE CITY — The Traverse City Area Public Schools Board has approved its three-year strategic plan that district administration and trustees have been working on for more than a year.
The plan, which was developed during three-hour meetings between TCAPS administrators, trustees and chiefs of staff, will serve as a guide for the district's academic and operational goals for the next three years. The strategic plan is titled "COMPASS", which is an acronym for "Crucial Objectives and Metrics to Plan for Actionable Student Success".
TCAPS has been operating without a strategic plan for several years.
TCAPS hired Northwest Education Services, the local middle school district, for $14,000 as a consultant in the process. North Ed facilitated focus groups and surveys to gather data on community feedback and helped TCAPS administrators, staff, and administrators organize their ideas for the district into the plan, then led the administrators and TCAPS staff throughout the process of developing the strategic plan.
During planning meetings, TCAPS administrators and staff discussed the data and how it should inform the district's goals, mission, values, and vision. The end result lists a mission, vision and values ​​statement for the district along with 12 goals focused on several areas related to the environment and school services, many of which have recently been discussed at length by school district administrators and of which some have already acted.
In the coming weeks, the TCAPS administration will meet to divide the listed goals into three groups to focus on during the different years of the strategic plan's tenure, Superintendent John VanWagoner said.
VanWagoner said they will try to figure out what is doable and when, what they can start on right away, and what requires more resources.
School safety will be a clear focus of the first year, as it is something they are already working on, the superintendent noted.
In July, TCAPS hired safety consultants to assess school district buildings in the fall and also received state funding to work on the district's building infrastructure.
Along with school safety, mental health is another focus of the district's goals. However, there are still challenges finding people to hire in mental health positions, so district officials will need to come up with creative solutions for that, board chairman Scott Newman-Bale said.
TCAPS is currently seeking a mental health professional and is having difficulty filling the position, he said.
With respect to mental health and school safety, on the list of goals, the district would explore the possibility of working on a regional improvement mile, which is an ISD-wide mile that would allow the school district to use mileage dollars to cover day-to-day expenses, such as salaries for new security or mental health positions. If TCAPS were to pass its own mileage, the district would not be able to use the funds for current expenses.
Other goals focus on working with the community and connecting with other educational institutions in the area. Part of working with the community is also figuring out how to provide skilled trades to the community, Newman-Bale said.
"How can we provide the best students in the community with the jobs they need? Newman-Bale said.
The strategic plan as written can also help the board go back to past efforts.
The TCAPS Social Equity Task Force disbanded about a year ago after a group of parents questioned its purpose as board trustees reviewed a resolution on diversity, equity and inclusion drafted by the working group. Since then, some members of the community, including former members of the task force, have hoped that the task force will be reinstated.
Newman-Bale said having the strategic plan means the board will be better able to set an outline of what the task force should do and what its goals should be. One of the goals of the strategic plan focuses on "preventing and addressing harassment and bullying in order to provide a safe and inclusive environment for all students." Newman-Bale said this would likely align with the mission of a future task force.
Having this as part of the strategic plan also helps to better understand why an entity such as the task force would exist, as it would align with one of the stated goals of the district.
"I think most people can't say they don't want every student to come to class feeling welcome," Newman-Bale said. "It's meant to be a broad, non-situation-specific statement."
After about a year of this process, Newman-Bale said he was glad the strategic plan was complete. He emphasized that the result was truly community driven.
"I think that's one of the most critical things the board is going to do. Everything else we do is based on that," Newman-Bale said. "I think it's a great process to really think about things in a different way, in a more structured way. It feels really good.
VanWagoner said he was happy with how the plan went and was grateful for North Ed's guidance.
"We're excited to really do this work," VanWagoner said. "It confirmed a lot of things that we had already planned and then gives us things to definitely think about."
The strategic planning surveys were sent out over the winter and nearly 3,000 people responded. As noted earlier, results showed high percentages of students feeling welcome at school and enjoying extracurricular activities, while staff satisfaction with salaries and students' sense of safety at school school tended to decline.
In documents obtained by the Record-Eagle through Freedom of Information Act requests, verbatim comments from the surveys show some concerns about the large class sizes at TCAPS and the school district's appreciation of the many extracurricular and academic opportunities. The text comments also included praise for TCAPS teachers and staff.
Requests for more mental health support, more "real and hands-on" lessons, more support for struggling students, and encouragement for more parental and community involvement were also included in the text comments of the investigation.