No respite from high food prices

In the absence of strong growth, good agricultural production and an adequate market surveillance system, high food inflation could continue to be a reality. Photo: Rashed Shumon
">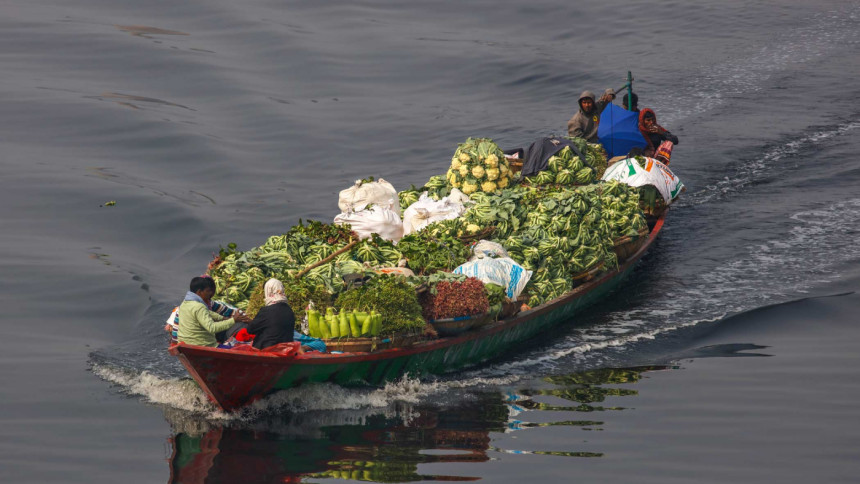 In the absence of strong growth, good agricultural production and an adequate market surveillance system, high food inflation could continue to be a reality. Photo: Rashed Shumon
People all over the world are grappling with inflationary pressures. Many have lost their jobs or earn less income. Prices of basic necessities and fuel have soared, further depleting people's purses. Businesses have also been affected, especially small businesses, which have yet to recover from pandemic-induced shocks. Although the countries are on the road to recovery, the emergence of Omicron coupled with the strong inflationary pressure could slow their recovery in the short term. Meanwhile, since the global economy is recovering, demand has increased when supply could not match demand.
Bangladesh has also been on the recovery trajectory. However, like in other countries, high inflation is a major concern for Bangladesh. Inflationary pressure on the Bangladesh economy started around June 2020 after the outbreak of the pandemic. According to the Bangladesh Bureau of Statistics (BBS), point-to-point inflation rose to 6.05% in December 2021 from 5.29% in December 2020. Food inflation rose to 5.46% in December 2021, compared to 5.34% in December 2020. .
For all the latest news, follow the Daily Star's Google News channel.
Rising prices in Bangladesh are often linked to rising world prices. Bangladesh is a net importer of fuel oil. It also imports edible oil, food, sugar, intermediate goods and raw materials for production. Therefore, any price increase in the world market is felt almost immediately in Bangladesh. This is a regular phenomenon and has been the case for decades. In times of crisis, it becomes even more important. It can be recalled that during the period 2000-2008, the increase in the world prices of fuel and foodstuffs had repercussions on the economy of Bangladesh. Inflationary pressure began to ease following a global meltdown in late 2008 and 2009, which caused major commodity prices to fall. However, inflation began to rise once the global economy began to recover in late 2009 and early 2010. Over the next decade, until the outbreak of the pandemic, the inflationary trend fluctuated.
In 2011, the global food price index increased significantly. After a decade, food prices are alarming again. The Food and Agriculture Organization of the United Nations (FAO) estimates that the FAO Food Price Index in 2021 was 28.1% higher than in 2020.
Globally, the cost of logistics such as shipping and airlines as well as fuel prices led to high crop prices, even as global agricultural production reached $2.8 billion, a record. This high cost of rice, wheat, soybean oil and other commodities is then passed on to end users. People in low-income countries like Bangladesh are most affected in this regard.
On the home front, shortage of supply is one of the reasons for the high prices. A key element of the high inflation in Bangladesh is the high food inflation in the domestic market. Since food accounts for about 60 percent of the total consumer price index in Bangladesh, rising domestic food prices are a dominant driver of high inflation in both urban and rural areas. The drop in production is one of the main reasons for the high price. Before the harvest season, there is a lean period when the supply is relatively low. This is a period when prices tend to rise. However, markets often do not follow the rule of supply and demand. For example, vegetable prices remained high even after the winter supply arrived. The impact of increased supply was not reflected in prices. The cost of transportation and other logistics also contributed. For non-perishable goods, there are market manipulators, hoarders and syndicates – all profit from times of crisis.
The global agricultural production forecast is not promising given the impact of climate change, which manifests not only in floods and cyclones, but also in droughts and wildfires. In the absence of high growth and good agricultural production, inflationary pressure will continue to prevail. Indeed, due to uncertain weather conditions, high input costs and the ongoing pandemic, FAO sees little hope for food market stability in 2022. This is a warning to importing countries of foodstuffs. During a crisis, food producing and exporting countries would prioritize domestic demand and tend to ban the export of food grains. Importing countries will not be able to import from the world market, as has happened in the past. Even if they can, they will have to pay an exorbitant price.
Therefore, Bangladesh must take action well in advance. As a climate-vulnerable country, it faces a high risk in terms of production disruption. On the other hand, the demand for rice and other food products is increasing. Therefore, to have a good market signal and price stability, a correct estimation of rice demand is necessary. It is also essential to monitor the role of market actors, including rice millers and importers, who control prices through manipulation.
Inflationary pressure always has a negative impact on consumers by reducing their purchasing power and eroding income. High inflation, especially high food inflation, affects the poor and people on fixed incomes. They have yet to absorb the burden of rising diesel prices in November 2021. Today, with the continued rise in commodity prices, they are struggling to live a decent life. Government support measures in the form of direct cash transfers to the poor, social protection to low-income families as well as stimulus measures for small businesses, can provide short-term respite. In the medium term, higher production through greater investment will help create jobs and income, which is crucial for absorbing price shocks.
Dr Fahmida Khatun is executive director of the Center for Policy Dialogue (CPD). The opinions expressed in this article are those of the author.