How the elected president can affect personal loans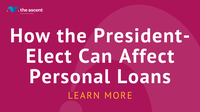 The President-elect and the Federal Reserve
The Federal Reserve (or "the Fed") is independent of the executive, legislative and judicial branches of government. It is largely isolated from political influence by design. As Congress sets the Federal Reserve's goals – price stability and low unemployment – members of this central banking system have discretion over how to achieve those goals. This independence is important. Decisions that are best for the economy in the long run are often politically unfavorable and difficult in the short run.
The president-elect has the power to appoint the members of the Fed's board of directors – including the president and vice president – who must then be confirmed by the Senate. That said, board members serve 14-year terms with a new term starting every two years. As a result, no president could ever appoint a majority of the board.
No member of government, including the president, can order the Federal Reserve to take any action. However, that hasn't stopped many US presidents from pressuring the central bank to implement monetary policies to their own political advantage. Often, presidents running for re-election seek monetary policies that will provide short-term economic impetus to help them win favor.
Nixon's tapes show that former US President Richard Nixon pressured Federal Reserve Chairman Arthur Burns to adopt an expansionary monetary policy, despite concerns about inflation. Presidents Herbert Hoover, Harry Truman, John F. Kennedy, Lyndon B. Johnson, and Ronald Reagan have all tried as well. Last year, President Donald Trump repeatedly criticized the Federal Reserve for failing to cut rates to stimulate the economy, saying he could demote Fed Chairman Jerome Powell. Whether or not the president-elect has the power to dismiss the Fed chairman is still a legal gray area. It would be very unconventional.
How Federal Funds Rate Changes Can Impact Personal Loans
One of the main tools the Federal Reserve can use to guide the economy is to control interest rates. It sets the target federal funds rate, which is the interest rate at which banks borrow from each other. Raising this rate slows rapid growth and protects the economy against inflation. On the other hand, its decline stimulates the economy. Currently, the federal funds rate is set at zero in an attempt to pull the economy out of recession. This has caused personal loan rates to drop dramatically.
You have probably noticed that the interest rate set by the Fed is not the same as the interest rates you pay. Yet the two are linked. When it comes to personal loans, the federal funds rate plays a role, but your credit score and the current economic climate are more important factors. This means that changes in the federal funds rate are often, but not always and not immediately, reflected in personal loan rates.
That being said, many personal loans come with fixed interest rates. This means that your interest rate will not change during the life of your loan, regardless of changes in the economy and the federal funds rate. Variable rate loans, on the other hand, have interest rates that can change over time.
How are personal loan interest rates determined?
Banks are free to set personal loan interest rates as they wish. Usually, they determine personal loan rates based on the following factors:
Cost of obtaining your loan funds
Loan processing and management fees
Risk they take by lending you
Competition from other financial institutions
Their profit margin targets
This means that the personal loan rates you qualify for are largely influenced by your creditworthiness and bank overheads as well as the federal funds rate and the current economic climate.
What to consider if you are looking for a personal loan
If you are looking for a personal loan, there are several things you need to look for. Specifically, pay attention to the APR and the interest rate you will be charged. These determine the cost of your loan over time.
Imagine that you have taken out a personal loan of $ 20,000 with an interest rate of 12% and a term of 5 years. You would pay around $ 445 per month. In the end, this loan would cost you almost $ 4,300 in interest charges alone. The same loan with a 7% interest rate would require monthly payments of around $ 395 and cost $ 1,365 in interest. If you can get the loan with the lowest interest rate, you will save almost $ 3,000.
Interest rates are not the only thing to consider when looking for a personal loan. There are also a number of fees that you should be aware of. For example, late payment fees are pretty universal, but it's always worth looking for a lender with low late fees. Original fees are also quite common. Still, it's best to look for a lender who doesn't charge them. You should also avoid prepayment charges. These fees are charged if you decide to prepay your loan.
Finally, you will want to consider the loan amounts and terms offered by each lender. Calculate your monthly payments, including interest and fees, to make sure you can afford them.
The bottom line
The elected president has limited direct influence over personal loans. That said, the state of the economy Is impact on personal loans. And of course, the economy is heavily influenced by the president. This is why it is important to vote.
Regardless of who is elected, however, you have control over the loan terms you qualify for and agree to. Maintaining good credit can help you get the best loan rates, and careful research before you embark on a loan will help you find the best deal.