Fashion KNN Calcutta is Kolkata's newest brand trying to balance luxury fashion with streetwear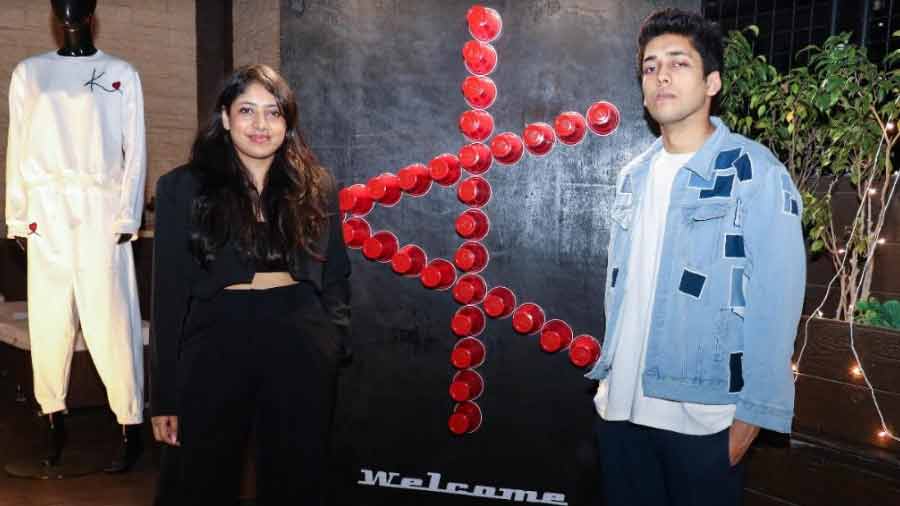 Indian streetwear has overtaken the counterculture remarkably quickly, given that the first Yeezy and Nike Air Max didn't arrive in the country until 2015. engage in trends and seek limited products. editing drops. Kolkata siblings Srishti and Yuvraj Gourisaria recognized early on the possibilities of a burgeoning streetwear market. Their new label, KNN Calcutta, balances streetwear and luxury, and caters to shoppers keen on hypebeast clothing and local alternatives to global giants like Supreme or Off-White.
"We had started talking about creating a brand called KNN since our early years at school, and to be honest, I can't even remember the exact day or year when we decided on the name KNN Calcutta," shares Srishti. The siblings had launched two hobbyist collections earlier this year and recently dropped their AfterParty collection – a line of sweatshirts, graphic tees, graphic print jackets and more. Olympian PV Sindhu was recently seen in a KNN Calcutta printed sweatshirt.
"We plan to create a premium streetwear brand that blends the lines between exclusivity, community, comfort and luxury," says Yuvraj. My Calcutta sat down with this duo of young entrepreneurs to find out what KNN is all about, the appeal of streetwear, their approach to sustainability and their influences. Excerpts from the conversation…
My Kolkata: Why did you name your brand KNN Calcutta?

Srishti and Yuvraj: We come from a family deeply rooted in the fashion industry. Our family owns ethnic clothing companies named Kanchana and Kanchana Next. We grew up around color wheels and fabric swatches, and owe our interest and passion to our foundation. We wanted to keep our brand connected to our family business in every way possible. Thus, KNN Calcutta is an ode to the same; it's the abbreviation of our family business, KaNchaNa.
Tell us about the AfterParty collection

Yuvraj: This is our first collection and has been curated to establish KNN-centric designs and themes. This is an essential collection to project the direction of our brand. All of our future collections will have something we call Owner Details, which are the patented design elements that shape our brand. Thus, the AfterParty collection serves as the basis for our future ones.
When did you realize that streetwear had takers in the country and in Kolkata?

Srishti: An extremely new but nascent industry, streetwear is taking off in India! We are actually happy that this revolution has come at the perfect time to launch our brand. We had heard of international streetwear brands growing up, but we didn't find many Indian brands. So we always thought we could have the first mover advantage. But by the time we were positioned to launch our own label, several streetwear brands had popped up. This helped create awareness and a sense of community for the streetwear industry in general. So everything worked out for the best!
Tell us a bit about your approach to sustainability and conscious fashion

Srishti: We try to be as sustainable as possible. But as a brand, we're not yet aiming for zero-waste manufacturing or using only recycled materials. We source our materials domestically and try to use as many natural fabrics as possible, rather than synthetic fabrics. We maintain a healthy and safe working environment for our workers and make sure to avoid fast fashion harms like underpayment or longer working hours.
Tell us about your production. Are your units based in Kolkata?

Yuvraj: We imported specific materials for specific designs from everywhere, but manufacturing and assembly had to happen close to home so that we could follow up regularly, be involved and be within phone range.
What are some of your design influences?

Yuvraj: We are constantly inspired by the things around us. We look at things from a fashion and art perspective and try to translate that into our pieces. For example, the inspiration could come from a certain NFT or even from the wrapper of a random European chocolate. In fact, both influences mentioned above were used in our pieces, let us know if you can determine which ones they are!
What do you think of the luxury fashion market in Kolkata?

Srishti and Yuvraj: We really believe that there is a luxury fashion market in Kolkata and it is constantly growing. However, there is a gap in the market between the demand for high quality luxury goods and the national capacity to supply them, not only in Kolkata but across the country. This creates a vacuum for foreign brands to rush in and take advantage of this market gap. We thus aim to establish a premium streetwear brand where the language is streetwear, but with elements of luxury and exclusivity.
What are your plans with the brand? Do you plan to scale up?

Srishti and Yuvraj: Yes of course. We aim to establish a global brand presence. We are taking baby steps every day to finally achieve this goal. For now, we are focusing on the Indian market. We just launched the label two months ago, so we are working to establish ourselves in the country by selling through several multi-designer streetwear stores and popular Indian websites that promote hype culture. We are so excited to have started this journey and can't wait to see where it all takes us!